All of the following material is ganked from various sites on the 'net. Like all trance channeled material, Kenneth Grantesque visions or speculations, it needs to be taken for what it is ... some literal truths, some literal b.s., some misinformation, some obscure but useful metaphor, but is reprinted here primarily to serve as a "working mythos" to operate out of when working with the 360 degree system.
The actual system itself, being self-actualizing once communicated, is self-defining and self proving, and one should modify the working mythos accordingly — be that not at all or abandoned entirely, or somewhere in between.--TAG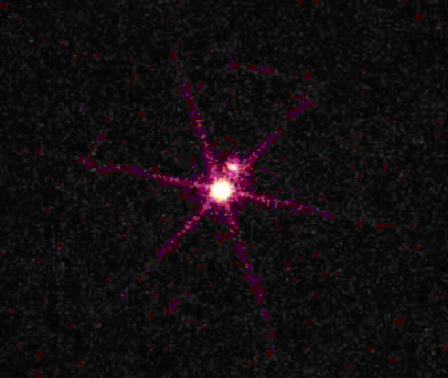 Sirius is the largest and most brilliant star in the heavens. It situated in the eye of the greater dog Canis Major, therefore it is known as the 'Dog Star'. It is located in the constellation Canis Major and is 8.6 light years from Earth. Sirius is visible in the Northern hemisphere evening sky from November through April. Sirius is over 20 times brighter than our Sun and over twice as massive. Sirius is not the closest star system - the Alpha Centauri system holds this distinction.
Sirius appears blue-white in color. It is the brightest star in our sky after the Sun, and can easily be seen in the winter months in the northern hemisphere. When looking at the constellation Orion - locate Orion's belt which are the three bright
stars in a row. Follow an imaginary line through these stars to Sirius which is just above the horizon.
Sirius A & B, Hubble X-Ray

Belt of Orion and the Great Pyramid: Sirius - Queens Chamber [Feminine] - The Pleiades [Sister Stars] Orion - Kings Chamber - Thuban (Alpha Draconis) [Gold - Snake - Reptilians. It was the pole star when the pyramids were built. Seamen called it The Dragon's Tail.]
Sirius B: From 1834 to 1844 some irregularities were noticed in the movement of Sirius by F.W. Bessel. It was supposed that Sirius must be affected by a second star, and in 1862 a faint companion star was finally detected by Alvan Clark, and it was named Sirius B. In 1920 the first spectrum of Sirius B was obtained by W.Adams at Mount. Wilson, which is all that would have been needed to classify it as a 'white dwarf star' - very small, yet very massive. White dwarfs are small dense stars that burn dimly. Sirius B although small and faint and about 10,000 times dimmer than Sirius A is extremely dense and heavy enough to exert influence on Sirius A. The pull of its gravity caused Sirius' wavy movement. Sirius B was the first white dwarf star discovered, a type of star first understood by Subrahmanyan Chandrasekhar in 1930. In 1970 the first photograph was taken of Sirius B by Dr. Irving W. Lendenblad of the US Naval Observatory. Sirius B is invisible to the naked eye but packs almost the entire mass of our sun into a globe only 4 times as large as the Earth. Sirius B's surface is 300 times harder than diamonds, while its interior has a density 3,000 times that of diamonds. Spinning on its axis about 23 times a minute, it generates huge magnetic fields around it. The two stars, Sirius A and Sirius B move around each other, constantly exchanging particles. Because of its greater density and magnetic field, Sirius B takes the lion's share, taking gases and materials off of its larger host body.
Sirius B has a super-heavy gravitationally powerful star made of concentrated super-dense matter (essence) with the number 50 associated with it (describing its orbital period). Every 49.9 years, Sirius A and B, come as close together as their orbits allow, creating huge magnetic storms between them. As they approach each other, the stars both begin to spin faster as tidal forces become stronger, finally flip-flopping over, actually trading places with each other. This energy is eventually released to flow on magnetic field lines to the Sun, which transmits it like a lens to all the planets.
THE DOGON TRIBE: The Dogons are a West African tribe who have known about - and worshipped - Sirius A and its Twin the invisible star Sirius B, for the past 5,000 years. They are have also been aware of the planets circle the sun in ellipitcal orbits, the four moons of Jupiter and the rings of Saturn. They say that approximately 5,000 years ago, Amphibious Gods came to Earth in three legged space ships from the Sirius Star System. They call the aliens Nommos. In their religious dogma, they acknowledge that Sirius B is immensely heavy, invisible, very small, yet extremely powerful. Their understanding of the two stars' orbits coincides exactly with modern astronomical findings, yet was arrived at thousands of years before the equipment needed for such measurements even existed. They also claim that a third star Emme Ya - Sorghum Female - exists in the Sirius system. Larger and lighter than Sirius B, this star revolves around Sirius A as well. Could there be a Sirius C? In 1995 two French researchers, Daniel Benest and J.L. Duvent, authored an article in the prestigious journal Astronomy and Astrophysics with the title Is Sirius a Triple Star? and suggested (based on observations of motions in the Sirius system) there is a small third star there. They thought the star was probably of a type known as a "brown dwarf" and only had about .05 the mass of Sirius B.

MYTHOLOGY AND METAPHYSICS: Sirius has many meanings Transition Stage - Moving consciousness from one reality - frequency - to another Spirit of Wisdom - Zoroastrian translation Brightly Radiating One - Graeco-Egyptian Name Isis - Osiris - Sirius was granted God/Goddess status amongst many early peoples, including the Egyptians and Sumerians. The Star of Isis is called Sothis, or Sirius and is the brightest star in our night sky.
Star of David: As Is Above - So Is Below

The Dogons describe this 'star' specifically as having a circle of reddish rays around it, and this circle of rays is 'like a spot spreading' but remaining the same size. The six-sided or hexagram star is revered as a religious symbol by the Hebrews who call it the Seal of Solomon, and the Hindus who call it the Mark of Vishnu, a god-man who was half-man, half-fish. The dogons have described perfectly the DNA pattern made by this elliptical orbit created by the two stars as they rotate make around each other. They believe Sirius to be the axis of the universe, and from it all matter and all souls are produced in a great spiral motion.

The Quran, Sura an-Najm, "The star", 53:49:
Yusuf Ali: "That He is the Lord of Sirius (the Mighty Star);"
Pickthall: "And that He it is Who is the Lord of Sirius;"
Shakir: "And that He is the Lord of the Sirius;"
ANCIENT CIVILIZATIONS (extensively lifted from crystalinks.com): In Ancient Egypt Sirius was the brightest, and most important star in the night sky. Sirius was astronomically the foundation of their entire religious system. It was the embodiment of Isis, sister and consort of the god Osiris, who appeared in the sky as Orion. Sirius' helical rising (when Sirius again rose into visibility after being hidden by the Sun's light for 70 days) marked the beginning of the Egyptian year and roughly coincided with the flooding of the Nile - major events marked by feasting and celebration. Egyptians believed Sirius was responsible for the rains, so it was vital to accurately predict its arrival. It was the centerpiece of Egypt's 365-day solar calendar, and its appearance marked the beginning of the new year. In the Sumerian Civilization, predating the Egyptians, their epic poem Epic of Gilgamesh describes a dream of Gilgamesh where the hero is drawn irresistibly to a heavy star that cannot be lifted despite immense effort. This star descends from heaven to him and is described as having a very potent essence and being "the God of heaven". Gilgamesh had for his companions, 50 oarsmen in the great ship, Argo, a constellation bordering Canis Major, where Sirius is found. Ancient Egyptians called Sirius the 'Dog Star', after their god Osiris, whose head in pictograms resembled that of a dog. In Egypt, Sirius shines for most of the summer, and since it is such a bright star, the Egyptians actually believed that the additional light from this nearby star was responsible for the summer heat. This of course is not true. However the origin of the phrase 'the dog days of summer' comes from this ancient belief - the 'dog star' being the root of this common saying! The Greeks named the star, Sirius, which meant, 'scorching or burning'. Osiris and Isis - Sirius - Sumer - Enki - Enlil - Mesopotamia - Dogons - Nommos - No More - Nibiru - Reptoids - our reptilian brain - merging of the right/left sides of our brain - explosions - they return for the gold - metaphor for alchemy or transitional change of your consciousness to higher frequency evolution.
Sirius is a BLUE-white star. Electricity...which is still part of the electromagnetic spectrum...when isolated is BLUE in color. Entities from Sirius were supposedly BLUE. Royalty - 'BLUEbloods' as they are supposedly descending from this BLUE alien race. Prophecies often mention the color BLUE. The Hopi name for the star Sirius is Blue Star Kachina. "When the Blue Star Kachina makes its appearance in the heavens, the Fifth World will emerge." Hopi Blue Star Prophecy. Blue Star Maiden Crystal Skull Indigo Children El Morya - Master of The Blue Ray - The Blue Star Kachina If the Dogons are correct - The Nommo Gods are 'Aquatic': BLUE Water - came from creation - the Collective Flow - FISH - Pisces - Creation - Christ Consciousness - Return of Jesus/Savior? Why is Krishna colored blue? "One of the theories is that Vishnu [God] is blue because his association with water therefore all his incarnations including Krishna, are shown as such." Nibiru - Planet X - 12th Planet March 2004 - A 10th Planet was named this month - Sedna after the Inuit Goddess of the Oceans. A planet named Nibiru - Planet X - was thought by many people to be returning in the 21st century - but in truth Nibiru will not return. Nibiru is a metaphoric trigger for awakening to a higher consciousness that something is about to occur - but it a shift in consciousness not the return of a plant. The 'X' = As is Above So is Below - Emerald Tablets of Thoth. It is the merge of matter and antimatter. It is the merge of the polar apsects of your soul at which time you become One. Please see related files in my archives Scroll down to articles 'Zero Point'.

Nibiru Myth, taken from Zecharia Sitchin: Nibiru is the home of the Anunnaki - the Nephilim - the Elohim - the Gods - the Giants of the Bible - Those Who From Heaven To Earth Came ... The Dogon Tribe of Mali, Africa also have a legend about a race of Amphibious Gods - Nommos - who came to Earth from Sirius approximately five thousand years ago.
The Nibiruans supposedly landed on Earth, colonized it, mining the Earth for gold [metaphor for alchemy - the transmutation of consciousness --TAG] and other minerals, establishing a spaceport in what today is the Iraq-Iran region - [Interesting that we went to war in that area --TAG] - Sumer - and lived in a kind of idealistic society as a small colony. These aliens allegedly created a human slave-race to work their mines, farms, and other enterprises ... created Man, Homo Sapiens, through genetic manipulation with themselves and ape man Homo Erectus ...
Ellie's Interpretation: There is a central source of creation. Some people see it as Light, other see it as a simulation room where programs are created - as in the movies matrix or the Holodeck in the TV and movies shows Star Trek. This source of light divides into 12 pyramids of light. They spiral around the central source and create a Matrix - Grid System - The Spider Web Effect - Hall of Records - Akashic Record - Collective Unconscious - whatever term you chose. They create this on many different frequencies - some are physical and some are not. They never stop creating from this source - yet within each story or program created, the patterns must repeat over and over for that is how it creates.
Once the 'computer consciousness' has created these programs - the souls want to experience some of them in a physical body. The computer must now develop a way to do this. It creates programs made of electromagnetic energies - like north and south poles - which mean that this program will have polarities - duality - good guys and bad guys. There will always be conflict. The program will remain unbalanced until it is over. Souls experiencing any of the physical programs - all of which run simultaneously - such as Earth, Sirius, Nibiru, Orion, Atlantis, etc. - will experience most of the emotions available within the program while they remain in third dimension.
Now the program understands that the EM energies of third dimension are a lower frequency vibration. They move more slowly - are sluggish. We are of heavier density therefore we can't just move around or biolocate as we are able - when our souls are in faster and higher vibrations. We have to take cars, trains, and planes to go great distances verses bilocating to the place you wish to be. Think about entities on the other side. They can move from where you are to any place else they wish to go in a manner of seconds. Wouldn't you like to have that skill.
Here is another way to understand this concept. Consider your dreams or mediations. You can go anywhere and do anything. Many people remember flying in their dreams - freedom from the physical form. When you wake up - returning your consciousness to your physical body - you generally forget most of your dreams. As you feel yourself 'falling' back into your physical body you slowly awaken. This is your consciousness moving descending into 3D. There are days you may not feel your consciousness completely back in your body at all. Actually it is never fully in third dimension. Only an aspect of it is here as you sit there reading this. The rest of you is off having other experiences - which - as we move into higher frequency - are starting to merge - more deja vu - seeing between dimensions - temporal amonalies - and more paranormal experiences.
Sometimes an entire programs shifts all at once. This occurred on September 11, 2001 with the World Trade Center attack. For days, weeks, months, people were in shock and unable to come fully into their bodies - bringing their conscious awareness into this changed frequency program. Our grid program - coming from one central source - follows a specific blueprint which repeats over and over again endlessly. Fractal Theory. The creative consciousness - source of light - creates program after program based on the same fundamental mathematics which is known as Sacred or Creational Geometry ...

Light - electricity - is the color BLUE. It is electromagnetic energy which spiral us into third dimension and which is connected with our leaving this program. That is why most prophecies reference the color BLUE. The blue I see is now navy BLUE. Nibiruan returns every 3,600 years. Creational geometry - 12X36. Also 12 pyramids around 1 that form the grids. Pyramids - three into one. Sumerians said one year on planet Nibiru, a sar, was equivalent in time to 3,600 Earth years. They also said Anunnaki lifespans were 120 sars which is 120 x 3600 or 432,000 years. According to the King List 120 sars had passed from the time the Anunnaki arrived on Earth to the time of the Flood. However when the Lofty Ones came to Earth their lifespans began to sync with Earth's faster orbit and they faced rapid aging compared to that on Nibiru. Einstein's theory of General Relativity says celestial body gravity and motion warps local space/time. They discovered that by eating food from their home planet they could keep the aging process synced to the pace of Nibiru. We always have good and bad gods in all creational myths ...
Earth Chronicles Timeline
Selected excerpts of interest.
450,000 years ago on Nibiru, a distant member of our solar system, life faced slow extinction as the planet's atmosphere erodes. Deposed by Anu, the ruler Alalu escapes in a spaceship and finds refuge on Earth. He discovers that Earth has gold that can be used to protect Nibiru's atmosphere ...
400,000 years ago - Seven functional settlements in southern Mesopotamia include a Spaceport (Sippar), Mission Control Center (Nippur), a metallurgical center (Shuruppak). The ores arrive by ships from Africa; the refined metal is sent aloft to orbiters manned by Igigi, then transferred to spaceships arriving periodically from Nibiru ..
300,000 years ago - The Anunnaki toiling in the gold mines mutiny. Enki and Ninhursag create Primitive Workers through genetic manipulation of Ape woman; they take over the manual chores of the Anunnaki. Enlil raids the mines, brings the Primitive Workers to the Edin in Mesopotamia. Given the ability to procreate, Homo Sapiens begins to multiply ...
100,000 years ago - Climate warms again. The Anunnaki (the biblical Nephilim), to Enlil's growing annoyance marry the daughters of Man ...
13,000 years ago - Realizing that the passage of Nibiru in Earth's proximity will trigger an immense tidal wave, Enlil makes the Anunnaki swear to keep the impending calamity a secret from Mankind.
11,000 years ago - Enki breaks the oath, instructs Ziusudra/Noah to build a submersible ship. The Deluge sweeps over the Earth; the Anunnaki witness the total destruction from their orbiting spacecraft. Enlil agrees to grant the remnants of Mankind implements and seeds; agriculture begins in the highlands. Enki domesticates animals ...
9780 years ago - Ra/Marduk, Enki's firstborn son, divides dominion over Egypt between Osiris and Seth.
9330 years ago - Seth seizes and dismembers Osiris, assumes sole rule over the Nile Valley.
8970 years ago - Horus avenges his father Osiris by launching the First Pyramid War. Seth escapes to Asia, seizes the Sinai peninsula and Canaan.
8670 years ago - Opposed to the resulting control of all the space facilities by Enki's descendants, the Enlilites launch the Second Pyramid War. The victorious Ninurta empties the Great Pyramid of its equipment ...
3450 years ago - Primacy in Sumer transferred to Nannar/Sin. Marduk proclaims Babylon "Gateway of the Gods." The "Tower of Babel" incident. The Anunnaki confuses Mankind's languages. His coup frustrated, Marduk/Ra returns to Egypt, deposes Thoth, seizes his younger brother Dummies who had betrothed Inanna. Dummies accidentally killed; Marduk imprisoned alive in the Great Pyramid. Freed through an emergency shaft, he goes into exile ...
2024 B.C -Leading his followers, Marduk marches on Sumer, enthrones himself in Babylon. Fighting spreads to central Mesopotamia. Nippur's Holy of Holies is defiled. Enlil demands punishment for Marduk and Nabu; Enki opposes, but his son Nergal sides with Enlil. As Nabu marshals his Canaanite followers to capture the Spaceport, the Great Anunnaki approve of the use of nuclear weapons. Nergal and Ninurta destroy the Spaceport and the errant Canaanite cities.
2023 B.C -The winds carry the radioactive cloud to Sumer. People die a terrible death, animals perish, the water is poisoned, the soil becomes barren. Sumer and its great civilization lie prostrate. Its legacy passes to Abraham's seed as he begets -at age 100- a legitimate heir: Isaac.