About T Allen H. Greenfield

Allen H. Greenfield is an American-born occultist and author long involved in the Worldwide Free Illuminist movement.

He was given the mystical title and charter as Tau Sir Hasirim in 1986 and 1991 by Hierophant Michael Bertiaux of Chicago, Illinois.
Biographical Information on

Tau Allen Greenfield
T Allen Greenfield (the "T" or "Tau" being a customary title given to an esoteric prelate in the Doinel lineage upon their consecration) is a native of Augusta, Georgia, USA. With relatively brief sojourns in Tampa, Florida, Tucson, Arizona, and Key West, Florida, he has lived much of his life thus far in Atlanta. By the age of sixteen, he had become a world traveler, and has visited many countries all over the globe in the years since, from France to French Polynesia; from Canada to Venezuela; Greece to Grenada, Israel to Indiana.
He is a long-time student of
esoteric spirituality and Gnosticism, a study he began in 1960. A past (elected) member of the British Society for Psychical Research, the National Investigations Committee on Aerial Phenomena (NICAP) (from 1960), etc., he has twice been the recipient of the "UFOlogist of the Year Award" of the National UFO Conference (1972 and 1992), which has run continuously on an annual basis for 41 years. He is a Borderland Science Research Associate (BSRA).
He has personally conducted on site UFO abduction investigations in Brooksville, FL; Pascagoula, MS; and Brown Mountain, NC. He considers the UFO phenomenon to be a "signal" from the Collective Unconscious that the neglect of a magical spirituality by society as a whole is a cause of emotional plague and social disaster.
As a futurist with a remarkable track record of giving
accurate predictions of future history, he is also a past President of the Atlanta Science Fiction Organization (ASFOII), which pioneered with the prototypes of science fiction conventions as they are now commonly presented. Science Fiction is, in his view, the Gnostic mythos of our time, best exemplified by the 20th century author Philip K. Dick. In 1968 he photographed a well-known apparition in the graveyard of Christ Church on St. Simon's Island GA.
The Rt. Rev. Greenfield is the author of several commercial books.
The controversial
Secret Cipher of the UFOnauts (IllumiNet Press, 1994; first digital edition, 2007), now considered a cult classic, has been critically acclaimed in many reviews all over the world. It is currently in production for a revised reprint. The long-awaited sequel,
Secret Rituals of the Men In Black, is now available as well.
A more scholarly work, The Story of the Hermetic Brotherhood of Light, which deals with this seminal occult group from a Scientific Illuminist perspective, has been published by Looking Glass Press of Stockholm, Sweden and Beverly Hills, CA USA (1997) and is currently available from Amazon.com as an out of print book.
Luxor Press has also published a monograph which updates the Looking Glass Press volume,
"Hermetic Brotherhood Revisited".
Greenfield has also written the only comprehensive single-volume history of an Egyptian Rite of Freemasonry,
The Compleat Rite of Memphis, on the history of the Rite from Cagliostro to Yarker, Papus and Crowley, published by Luxor Press in 1998.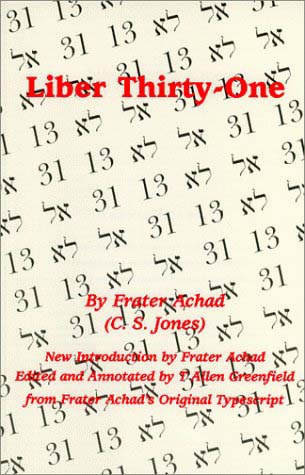 He has also edited a definitive
, authorized, annotated edition of Frater Achad's
Liber Thirty-One
(Luxor Press, 1998), taken from the
original typescript
and Achad's
never-before-published private letters
. This book is part of an
ongoing project
by Greenfield and several other researchers, to bring to public light the unpublished and obscure writings of
C.S. Jones, a.k.a. Frater Achad
.
Greenfield's edition of Liber 31 was the first modern and annotated edition of any of Achad's previously published works. Thanks to much material supplied by several other researchers, notably J.G., K.S. and H.B., Greenfield also facilitated publication of, and wrote introductions to, a number of previously unknown shorter essays by Achad, well ahead of any other researcher in this area.

Greenfield's ongoing essay project, "The True History of Wicca", was included in Richard Metzger's anthology from Disinformation Co Ltd.'s
BOOK OF LIES in 2003. This is a more recent version of this analysis than that appearing on many web sites. The most current version is, as always, available elsewhere on this site.
Greenfield wrote the introduction to the late Gray Barker's surrealist exploration of the heart of the UFO, "Mothman" and "Men in Black" mythos, The Silver Bridge (Saucerian Books, 1970) and privately published an informal history of UFOlogy, Saucers and Saucerers (PANP Press, 1976). As mentioned above his interest in UFOs is rooted in the modern mythic quality of the subject, and its link to earlier myth cycles and folklore. His approach is to investigate a mythos "from the inside".
He is quoted (and occasionally misquoted) and referred to in many books, including:
Margot Adler's Drawing Down the Moon
Hans Holzer's The UFOnauts
Timothy Green Beckley's The UFO Silencers
John A. Keel's Strange Creatures From Time and Space and Disneyland of the Gods
Neal Wilgus' The Illuminoids
Jacques Bergier's Secret Vaults of the Earth
Robert Scheafer's The UFO Verdict
The Theosophical Enlightenment and Hermetic Brotherhood of Luxor by historian Joscelyn Godwin
Jim Keith's Casebook on the Men in Black
Robert Anton Wilson's Everything Is Under Control
Jim Moseley's Shockingly Close to the Truth
He is, however, not a strange creature from time nor space, a UFO silencer, a pagan writer, an Illuminoid, nor, for that matter, a Theosophist. How 'close to the truth' he is depends on who you talk to. He is said to have a sense of humor, and is known to write rather decent poetry on many themes. Some of this is posted on the QBLH Web Site. Much more has been posted on the legendary (and now lost) "The Poetry Exchange" web site.
From the late 1960's on, the Rt. Rev. Dr. Greenfield has appeared on various "talk" radio and television programs, dealing with esoteric and social issues (KYW Cleveland, WOR New York, WTBS Atlanta, CKTB Toronto, etc). As a speaker, he has appeared before the International Fortean Organization (Washington, D.C., 1974), the Atlanta UFO Society (Atlanta, Fernbank Science Center, 1975), at the 31st Annual National UFO Conference (Cleveland, 1994), UFO Forum (Atlanta, 1995), 32nd Annual National UFO Conference (Atlanta, 1995), and Greenfield spoke on the Hermetic Brotherhood of Light and served on two panels at the First National OTO Conference (Akron, Ohio, 1997), and on "Fraternity in Theory and Practice" at the second OTO National Conference, Portland, Oregon, in August 1999. In August 2003 he served as chair of the Speaker Selection Committee for NOTOCON (OTO National Conference, again in Portland), and spoke on the convention theme, "Initiation". He was a speaker at the 2005 NOTOCON as well, on the subject of "Signs of New Times", and an inaugural guest on the first two episodes of the pioneering podcast "Thelema Coast to Coast" in 2005.
Since the 1960s Greenfield has been a serious student of the
Western Esoteric Tradition. After many years of study, he was Elected Episcopos (Mabeker) by the Holy Synod of the Neopythagorean Gnostic Church in 1986, and was consecrated to the Episcopate by the Patriarch of that Communion, Most Rev. Michael Paul Bertiaux of Chicago. In 1987 he was extended recognition as Episcopus within the Ecclesia Gnostica Catholica-Ordo Templi Orientis (OTO) by the Absolute Grand Patriarch, Tau Silenus, who consecrated him in New York in November of 1988. In December of 1993 Bertiaux reconsecrated Greenfield in Chicago sub conditione, followed in that same month with reconsecration sub conditione by Tau Apiryon as an EGC-OTO Episcopus. He has actively ministered to EGC congregations in the South for many years.
Because the history of the Gnostic Church has been the subject of some special interest, we have included a page of our spiritual view and
ECCLESIASTICAL DOCUMENTATION for those who might be concerned with such things. Included there is a photograph of Tau Michael Bertiaux and Tau Allen Greenfield, taken at Bertiaux's residence in Chicago a number of years ago following a major consecration. Docteur Bertiaux is the celebrated and mysterious author of
The Voudon Gnostic Workbook, as well as an esoteric Patriarch.
He also holds symbolic and actual titles from a number of esoteric bodies: From the Ancient and Primitive Rites of Memphis & Mizraim, he holds High degrees and a research lodge charter (1921 ecclesiastical revised rite, issued 1992); Auxiliary ("Associate") Episcopus in the QBLH, extended by the late W.W. Webb (Frater Damon), along with a QBLH research lodge charter, etc.
Since September 23, 1995, the Rt. Rev. Greenfield has been a Member of the Green Abyss Lodge of the
MISKATONICK SOCIETY (USA) in association with The Grey Lodge (England). Individuals are admitted by the Society's Secretaries solely in recognition of their work and achievement." In 1998 Greenfield was also elected an honorary member of the related ESOTERIC ORDER OF DAGON, or
E.'.O.'.D.'. In 2005 Greenfield was appointed "Frater One Seven One XII° Sea Lord" by the new EOD Grand Master XXIII° honoring his association with the numinous mythos of H.P. Lovecraft and EOD.
The only ritual initiatory body with which The Rt. Rev. Greenfield has been affiliated, however, has been the
Ordo Templi Orientis (OTO). Greenfield is Past Master of Eulis Lodge of OTO, and former editor of its journal, LAShTAL. The Rt. Rev. Greenfield has held both initiate and full ecclesiastic membership in OTO, and continued to serve that august body as both Episcopus and Chartered Initiator, Secretary for Correspondence of U.S. Grand Lodge, as well as in a number of other internal capacities, while critical of its current structure and direction.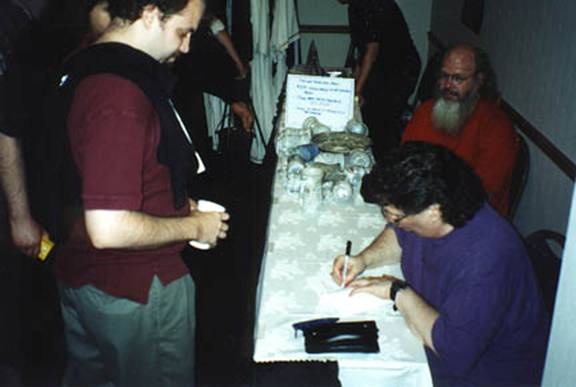 T Allen Greenfield autographing books at OTO National Conference, 1999 EV.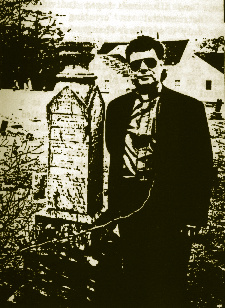 Frontal Chief Dr. Peter Davidson,
taken circa 1992 EV.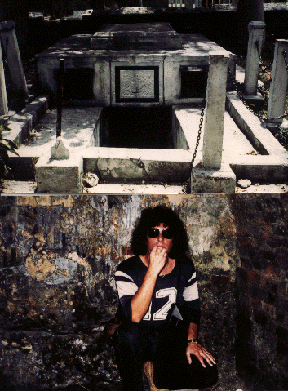 This is Allen Greenfield investigating the famous "Tomb of the restless coffins"
on the island of Barbados, West Indies, circa 1984 EV.
As an active bishop (now working with
Ecclesia Gnostica Universalis) a large part of T Allen Greenfield's life has been devoted to spiritual Work, keeping in mind that he is first and foremost a Scientific Illuminist, which means that he does not hold any fixed "belief system" and the spiritual philosophy he adheres to works with symbols and mythos, rather than any absolutist faith or dogma. He is an active clergyman, and currently working with consecration and empowerment structures within the broad neognostic community.
What you have read here is some biographical information on who Dr. Greenfield is and what he does, and what he tries to accomplish in his Work. Though his interests appear diverse, they do decidedly have an underlying theme. The archival essays presented above include biographies of occultists and metaphysicians, historical perspective on magical societies of the past, and some carefully considered hints about the present and future of the Scientific Illuminist perspective.
Born in 1946, Greenfield is the father of three sons.
You can contact Dr. Greenfield via e-mail at:
bishop171@gmail.com